GUITARO 'Futura Black'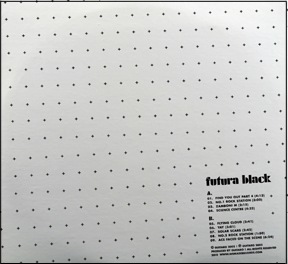 CAT#wemadealp1

Out Now
180 gram LP w/ MP3 download card 600 copies black
Click Here To Buy This Record Now

Great records get overlooked all the time, but to the disparate few lucky enough to discover the monolithic blast that is Futura Black at it's almost invisible release ten years ago, it's continued obscurity must seem nothing short of bizarre. A 1000-copy pressing by the band, sold at shows and online by the band with almost zero distribution meant that even the most adventurous listener was probably going to miss this buried gem.
Guitaro was formed in Abbotsford, B.C., around 1999 by trained studio engineer Mark Weibe and friends Heather Warkentin, Jeremy Epp, and Jeremy Unrau. The sound that resulted has been mislabeled everything from Shoegaze to power-pop, with the usual references to My Bloody Valentine, Slowdive, Ride and the like. But viewed through the prism of nearly a decade gone by, Futura Black becomes something much more singular than any "sounds-like" comparison. Presented here in heavy-weight vinyl with new artwork, this limited first-ever pressing includes an MP3 download card for the entire record on MP3 inside the jacket.